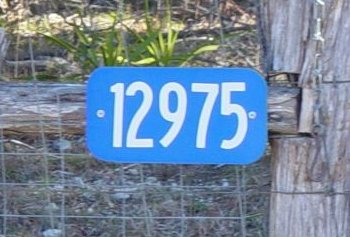 Standardized street signs for easy identification by EMS cost $3 each. Contact Pct 4 Commissioner's office (512-858-7268) for an order form or download the form here.
Ideally, the sign should be close to the road, on the near side of your driveway as EMS likely would approach, but visible from both directions. It must be immediately beside your driveway so as not to confuse the number with another driveway.
Special Instructions
Also, if anyone has special instructions they want to have "on file" with the EMS dispatch, send that info in a letter to the Hays County 911 Communications Coordinator, Sheriff's Office, 1307 Uhland Road, San Marcos, 78666. Some examples of special info might be: if your mailing address is not your drive way location, tell them how to find your drive; give instructions or codes to open/unlock gates; advise if guard dogs are a threat; advise if any residents are disabled, blind, or deaf. Keep the info clear but concise and be sure the info is up to date.
Address Inconsistencies
We are most concerned about folks whose mailing address does not match their driveway location since that poses the greatest challenge for emergency responders. The County office that assigns 911 addresses (Environmental Health/GIS & 911 Addressing; 512-393-2160) assures me the Sheriff's 911 system must use the mailing address and that apparently is not negotiable. If you want your mailing and 911 addresses to agree, you will need to contact Environmental Health to verify your 911 address and then change your mailing address. The Post Office is supposed to stop delivering mail to any non-911 address but has never enforced that. Regardless of what address you end up with, where you place your mail box is strictly between you and the Post Office.